Belgium to start road-user charging scheme in 2016
Next year, Belgium will implement an intelligent road charging system for heavy goods vehicles weighing more than 3.5 tonnes. Vehicles will be required to carry an OBU that will record journeys and charge the user based on distance travelled.
April 2015
New era of state cooperation dawns ahead of ITS America Annual Meeting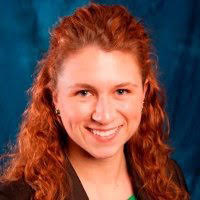 The first ever meeting of the presidents of ITS New Jersey (Stephen Dilts), ITS New York (Jeff Randall) and ITS Pennsylvania (Amber Reimnitz) has taken place, in a bid to promote greater cooperation between the states. Following the meeting all three spoke to Bernie Wagenblast, our associate webcaster at Transportation Radio, about their hopes for greater education, outreach and professional networking between the their chapters (click below to hear the interviews). Reimnitz (pictured) also looked forward to her state hosting the ITS America Annual Meeting next month (May 31 - June 3) and revealed that great emphasis will be placed on the Emergency Response Day, which will be looking at how to deal with bicycle fatalities. click here.
April 2015
Thirteen cities to take part in new Innovation Forum at Santa Clara's recently opened Innovation Center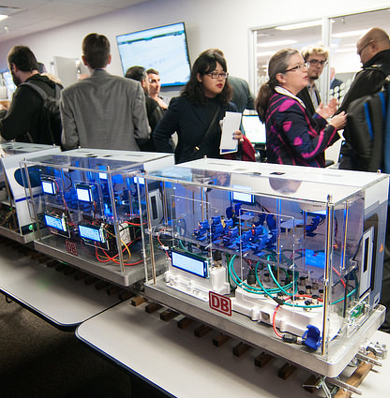 Following the grand opening of Santa Clara Valley Transportation Authority's Innovation Center last month (February 2015) Gary Miskell, the center's chief information and technology officer, has revealed that a forum will take place in the next few weeks, which will allow participants from across the county, and beyond, to exchange ideas and technological practices.
In a chat with Bernie Wagenblast at Traffic Technology Today's associate webcaster Transportation Radio, Miskell also looks forward to the opening of the new traffic control center in San Jose and to future collaborations with the Bay Area Transit Group. click here.
April 2015
Could this eHighway system be the best way to make trucks greener?
As the first real-world installation of Siemens' eHighway system begins construction in California, this video takes a look at how it works, with footage from a demonstration track in Germany. Read an exclusive interview about the new installation in Long Beach, Los Angeles, with the South Coast Air Quality Management District's deputy executive officer for science and technology advancement, Dr Matt Miyasato. click here.
April 2015
First full preview of the Mercedes F015 - a working autonomous prototype
This video is the first detailed look at what Mercedes are predicting will be the car of the future. Apart from showing off the car's autonomous driving capacity, this preview also reveals additional features, such as its ability to communicate with pedestrians using laser projections and its high-tech dashboard, which can be controlled using eye movements and hand gestures.
April 2015
Europe's €14.5m (US$15.7m) project to enable drivers to use less fuel
This video gives an overview of seven different test sites for Europe's ecoDriver scheme – which aims to reduce CO2 emissions from vehicles by 20%, simply by changing driving styles. click here.
April 2015
How to install an EV charging station in two-and-a-half minutes
Just what does it take to install an EV charging station in a standard parking space? Find out in this time-lapse video. Oregon DOT released this to celebrate the completion of their section of the West Coast Electric Highway. click here.
April 2015
The future of parking?
Could smart, app-driven systems like this soon be a more common way to park your car than driving around looking for a space? In a usability upgrade, parking barriers are now being given the ability to directly scan your smartphone screen. click here.
April 2015
The in-car system that predicts what you're going to do next
This system monitors a driver's head movements, and the road ahead, to predict what they are going to do next. It can therefore warn them if they are about to make an unsafe manoeuvre. The prototype has been developed by scientists at Cornell and Stanford universities (this video has no sound). click here.
April 2015
X-ray specs you can wear in your car
At next week's (20-29 April) Shanghai Motor Show, Mini will be showcasing their new augmented-reality glasses concept. This video explains more about how they will work. click here.
April 2015
Making city lighting smarter
International consultancy CGI has built this integrated public space management (IBOR) solution to help increase safety and improve energy efficiency in cities. It is now being installed in the Flemish region of Belgium. click here.
April 2015
GROW AMERICA Bus Tour highlights: 1,100 miles in three minutes
As US Transportation Secretary Anthony Foxx submits the revised GROW AMERICA bill to Congress, this video takes a look back at the relentless drive to get backing for it, from across the nation. click here.
April 2015
The car that reads and responds to speed limit signs
Ford's new Intelligent Speed Limiter promises to put an end to fines... another small step on the road to fully autonomous driving systems
April 2015
Behind the scenes at Traffic Scotland
A look at the advanced technology and operations being used to manage Scotland's busy motorways and trunk roads
April 2015
The campaign to include road safety in UN's Sustainable Development Goals
The FIA Foundation highlights the importance of addressing road safety in growing economies.
April 2015
Real-world autonomy to arrive in 2017
Volvo describes how its newly developed sensor, camera, laser scanner and ultrasonic sensor system will enable 100 self-driving cars to be safely tested on the streets of Gothenburg, Sweden in 2017
April 2015
Big data in mobility: explained
Philippe Crist from the International Transport Forum describes the opportunities and possibilities presented by big data in transportation and mobility. For more information you can read our recent feature on big data and asset management. click here.
April 2015
Video & Audio Archives
December 2018 (6 articles)
November 2018 (8 articles)
October 2018 (8 articles)
September 2018 (11 articles)
August 2018 (10 articles)
July 2018 (8 articles)
June 2018 (3 articles)
May 2018 (7 articles)
April 2018 (6 articles)
March 2018 (10 articles)
February 2018 (6 articles)
January 2018 (5 articles)
December 2017 (8 articles)
November 2017 (11 articles)
October 2017 (10 articles)
September 2017 (5 articles)
August 2017 (7 articles)
July 2017 (8 articles)
June 2017 (12 articles)
May 2017 (7 articles)
April 2017 (7 articles)
March 2017 (11 articles)
February 2017 (7 articles)
January 2017 (5 articles)
December 2016 (6 articles)
November 2016 (7 articles)
October 2016 (8 articles)
September 2016 (8 articles)
August 2016 (7 articles)
July 2016 (7 articles)
June 2016 (7 articles)
May 2016 (9 articles)
April 2016 (9 articles)
March 2016 (11 articles)
February 2016 (8 articles)
January 2016 (5 articles)
December 2015 (6 articles)
November 2015 (8 articles)
October 2015 (11 articles)
September 2015 (8 articles)
August 2015 (8 articles)
July 2015 (7 articles)
June 2015 (8 articles)
May 2015 (6 articles)
April 2015 (17 articles)
March 2015 (6 articles)
February 2015 (7 articles)
January 2015 (6 articles)
Festive Fun
(5 articles)