ITS Americaís new president and CEO Regina Hopper hits the ground running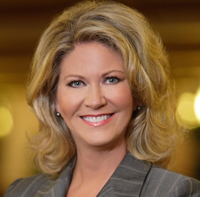 After just 11 days in her new job, Regina Hopper presided over the biggest event in ITS Americaís calendar Ė its Annual Meeting, this year held in Pittsburgh, Pennsylvania. At the event Bernie Wagenblast, of our associate webcaster Transportation Radio, caught up with her to talk about her past experience, hopes for the future and the challenges facing the ITS community in the coming months. To hear the full interview click play below. click here.
June 2015
EXCLUSIVE: Experts hail first ever Autonomous Vehicle Test and Development Symposium as huge success
The world's greatest minds working towards the development of self-driving vehicles gathered in Stuttgart, Germany, last week (June 16-18) for the first ever Autonomous Vehicle Test & Development Symposium. As co-hosts of the event Traffic Technology Today caught up with three of the key speakers on the final day, to get their research insights and personal assessments of the event itself, which attracted over 400 delegates.
June 2015
Research and innovation is transforming America's highways
Research conducted by the USA's Federal Highway Administration (FHWA) at its Turner-Fairbank Highway Research Center (TFHRC) is improving the safety and reliability of roads and bridges, saving lives, reducing congestion, and advancing economic growth
June 2015
The 'transparent' truck built to save lives
A person dies every hour on Argentina's roads, with the majority of deaths happening when people attempt to overtake in unsafe situations. These shocking statistics have prompted Samsung Argentina to develop a prototype see-though truck that allows drivers behind it to see what's going on in front. This video shows how it works.
June 2015
PSA Peugeot CitroŽn introduces driving with augmented reality
PSA Peugeot CitroŽn has developed a head-up display (HUD) system that projects a virtual image onto the vehicle's windscreen in the driver's line of sight. Virtual information is displayed over real objects on the road. The company says the innovation will make journeys by road for a safer and more enjoyable. Could this be the driving experience of the future?
June 2015
Regina Hopper interviews Google Self-Driving Cars director Chris Urmson
ITS America's new president and CEO Regina Hopper was able to draw on experience gained in a previous career (as an Emmy-award-winning news reporter for CBS) when she interviewed Chris Urmson, at the ITS America Annual Meeting in Pittsburgh earlier this month. For a more in-depth conversation with Urmson, don't miss the next edition of Traffic Technology International magazine, available from July 13.
June 2015
JLR's connected-vehicle pothole-detection system
JLR (Jaguar Land Rover) is developing a new pothole detection system that harnesses ride-enhancing technology, already built into their latest Land Rover vehicles, to report on road-surface conditions. These reports can then be shared via the cloud with other vehicles. click here.
June 2015
Autonomous vehicles: efficiency and prosperity
An interesting and thought-provoking perspective on the future of autonomous vehicles, and how they will impact sustainability, urban congestion and transportation in the developing world.
Oliver Kuttner is a Virginia entrepreneur, an auto enthusiast, and the founder and CEO of the Edison2 project. His team developed the first very light car (VLC): a prototype design for two- and four-passenger automobiles emphasizing low weight and overall efficiency. In September 2010 Edison2 won the Progressive Insurance Automotive X Prize. Since winning the prize, Kuttner has developed the VLC from a competition prototype into a safe, affordable, comfortable car of unprecedented efficiency. This TEDx talk took place at the University of Virginia.
June 2015
Video & Audio Archives
November 2018 (4 articles)
October 2018 (8 articles)
September 2018 (11 articles)
August 2018 (10 articles)
July 2018 (8 articles)
June 2018 (3 articles)
May 2018 (7 articles)
April 2018 (6 articles)
March 2018 (10 articles)
February 2018 (6 articles)
January 2018 (5 articles)
December 2017 (8 articles)
November 2017 (11 articles)
October 2017 (10 articles)
September 2017 (5 articles)
August 2017 (7 articles)
July 2017 (8 articles)
June 2017 (12 articles)
May 2017 (7 articles)
April 2017 (7 articles)
March 2017 (11 articles)
February 2017 (7 articles)
January 2017 (5 articles)
December 2016 (6 articles)
November 2016 (7 articles)
October 2016 (8 articles)
September 2016 (8 articles)
August 2016 (7 articles)
July 2016 (7 articles)
June 2016 (7 articles)
May 2016 (9 articles)
April 2016 (9 articles)
March 2016 (11 articles)
February 2016 (8 articles)
January 2016 (5 articles)
December 2015 (6 articles)
November 2015 (8 articles)
October 2015 (11 articles)
September 2015 (8 articles)
August 2015 (8 articles)
July 2015 (7 articles)
June 2015 (8 articles)
May 2015 (6 articles)
April 2015 (17 articles)
March 2015 (6 articles)
February 2015 (7 articles)
January 2015 (6 articles)
Festive Fun
(5 articles)