EXCLUSIVE: The inside story on Google's self-driving car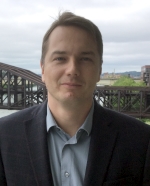 In an exclusive interview the director of Google's Self-Driving Cars project, Dr Chris Urmson, talks about his determination to create a car that requires absolutely zero control from its occupants, and how this is likely to be ready to function safely without any DSRC connected-vehicle technology. To listen to the highlights just click below. Read the full interview in the latest digital edition of Traffic Technology International magazine. click here.
July 2015
The car that spots pedestrians in the dark
Ford's latest intelligent safety system, designed to make night-driving safer, uses onboard heat-sensitive cameras to detect pedestrians and large animals on the road ahead when it is dark. If something is detected the car automatically trains a spotlight on the hazard to pick it out, even if it is outside the normal range of the car's headlights. This video shows the system in action. click here.
July 2015
The super-fast highway system that gives EVs unlimited range and solves congestion problems
The TEV (Tracked Electric Vehicle) is an ambitious project that combines the convenience and reduced emissions of electric cars with the speed and reliability of train travel - enabling cars to run on specially built tracks as well as on local roads. This video gives a fascinating overview of how the system is designed to work. click here.
July 2015
New technology means you can drive on twisting roads without ever touching the pedals
Freeway cruise control is has been commonplace in new cars for over a decade, while adaptive freeway cruise control, which is able to automatically adjust speed to fit with traffic conditions, is beginning to be seen more and more. Now Continental are taking the concept one step further with their Connected Enhanced Cruise Control, which not only senses speed limits and traffic conditions, but is also able to adapt to twisting country roads, and adjust the vehicle's speed accordingly. All the driver has to do is steer. click here.
July 2015
Ford conference questions viability of Google's self-driving car
At the Further With Ford conference in Silicon Valley last month speakers tried to predict what a future with autonomous vehicles will be like. As the automotive industry begins to develop a united front against Google's prototype car without a steering wheel, attendees questioned how acceptable such technology will be to the public.
July 2015
U-M's test facility will accelerate AV development
Following the opening of The University of Michigan's Mcity testing facility last week, the center has released a video demonstrating just how the facility will contribute to automated and connected vehicle development click here.
July 2015
Disney's 1958 short accurately predicted many transportation advances
Disney's Magic Highway USA correctly predicted the advent of VMS, intelligent road studs, heads-up displays, active safety systems, intelligent speed adaptation, rear-view cameras, pre-fabricated bridges, wider expressways and satnavs. One major prediction, that of autonomous and connected vehicles, has yet to come to pass, but it's getting closer by the day. TTI columnist Larry Yermack uses this film as a starting point to highlight some of the pitfalls we may encounter before we get there. No word yet on the "sun-powered electro suspension car that needs no wheels" or under-ocean tubular highways… but we'll keep you posted. click here.
July 2015
Video & Audio Archives
December 2018 (6 articles)
November 2018 (8 articles)
October 2018 (8 articles)
September 2018 (11 articles)
August 2018 (10 articles)
July 2018 (8 articles)
June 2018 (3 articles)
May 2018 (7 articles)
April 2018 (6 articles)
March 2018 (10 articles)
February 2018 (6 articles)
January 2018 (5 articles)
December 2017 (8 articles)
November 2017 (11 articles)
October 2017 (10 articles)
September 2017 (5 articles)
August 2017 (7 articles)
July 2017 (8 articles)
June 2017 (12 articles)
May 2017 (7 articles)
April 2017 (7 articles)
March 2017 (11 articles)
February 2017 (7 articles)
January 2017 (5 articles)
December 2016 (6 articles)
November 2016 (7 articles)
October 2016 (8 articles)
September 2016 (8 articles)
August 2016 (7 articles)
July 2016 (7 articles)
June 2016 (7 articles)
May 2016 (9 articles)
April 2016 (9 articles)
March 2016 (11 articles)
February 2016 (8 articles)
January 2016 (5 articles)
December 2015 (6 articles)
November 2015 (8 articles)
October 2015 (11 articles)
September 2015 (8 articles)
August 2015 (8 articles)
July 2015 (7 articles)
June 2015 (8 articles)
May 2015 (6 articles)
April 2015 (17 articles)
March 2015 (6 articles)
February 2015 (7 articles)
January 2015 (6 articles)
Festive Fun
(5 articles)