Cooperating with other faculties to improve transportation at The Citadel, South Carolina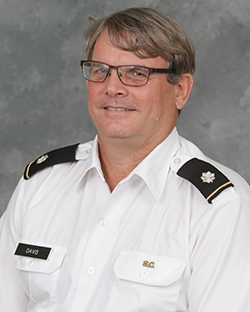 William J. Davis, professor of civil and environmental engineering at The Citadel, the military college of South Carolina has partnered with his colleague in the college's department of health, exercise, and sport science, assistant professor, Daniel Bornstein. In this clip, the two explain to the ITE Talks Transportation podcast host, Bernie Wagenblast, how easy seemingly unrelated faculty members can collaborate to solve transportation issues. To hear the full interview and for other episodes click here.
January 2018
Highways England reveals 2020-2025 objectives in new report
Elliot Shaw, executive director at Highways England, discusses some of the agency's objectives for UK roads in the second road period (2020-2025), which are outlined in its latest Strategic Road Network Initial Report (SRNIR), published December 2017.
January 2018
Transportation Research Board reveals key industry trends from its 2018 annual meeting
Transportation Research Board (TRB) executive director Neil Pedersen reveals the top three subjects that were selected for discussion at TRB's 97th annual meeting, which took place on January 7–11, 2018, in Washington DC.
January 2018
USDOTFHWA creates V2P app for safer road crossings
The US Department of Transportation's Federal Highway Administration (USDOTFHWA) has developed a vehicle-to-pedestrian (V2P) app that can help to increase drivers' awareness of pedestrians at mid-block road crossings. Pedestrians using the app can notify drivers of their intent to use the crossing. The app then audibly notifies drivers, who have the app installed in their vehicle, of the pedestrian's presence as they approach the crossing.
January 2018
ERTICO launches new online ITS and C-ITS training platform
Leading organizations in Europe's intelligent transport systems (ITS) community have collaborated to develop and provide online educational training courses. Course topics will include: an introduction to ITS; the impacts of ITS; financial incentives and business models; and data protection and guidance for the deployment of C-ITS.
January 2018
Video & Audio Archives
November 2018 (4 articles)
October 2018 (8 articles)
September 2018 (11 articles)
August 2018 (10 articles)
July 2018 (8 articles)
June 2018 (3 articles)
May 2018 (7 articles)
April 2018 (6 articles)
March 2018 (10 articles)
February 2018 (6 articles)
January 2018 (5 articles)
December 2017 (8 articles)
November 2017 (11 articles)
October 2017 (10 articles)
September 2017 (5 articles)
August 2017 (7 articles)
July 2017 (8 articles)
June 2017 (12 articles)
May 2017 (7 articles)
April 2017 (7 articles)
March 2017 (11 articles)
February 2017 (7 articles)
January 2017 (5 articles)
December 2016 (6 articles)
November 2016 (7 articles)
October 2016 (8 articles)
September 2016 (8 articles)
August 2016 (7 articles)
July 2016 (7 articles)
June 2016 (7 articles)
May 2016 (9 articles)
April 2016 (9 articles)
March 2016 (11 articles)
February 2016 (8 articles)
January 2016 (5 articles)
December 2015 (6 articles)
November 2015 (8 articles)
October 2015 (11 articles)
September 2015 (8 articles)
August 2015 (8 articles)
July 2015 (7 articles)
June 2015 (8 articles)
May 2015 (6 articles)
April 2015 (17 articles)
March 2015 (6 articles)
February 2015 (7 articles)
January 2015 (6 articles)
Festive Fun
(5 articles)